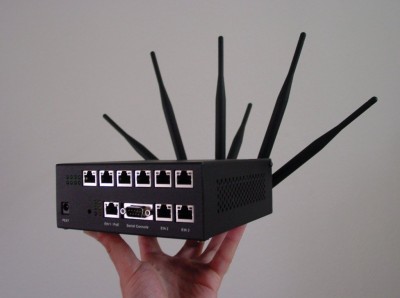 Si chiama "The Slurp", e, a differenza di quanto potrebbe far pensare il nome, non ha nulla a che fare con la cucina, anzi!

The Slurp è un router Wi-Fi con una peculiarità: è in grado di connettersi a tutte le reti wireless che trova nelle vicinanze (cosa illegale, almeno in Italia) e fornire tutta la banda disponibile al suo/suoi utilizzatori.
Un'ulteriore differenza rispetto ai normali prodotti è che questo è in grado di "bucare" le reti crittografate WEP, dando la possibilità di usarle (a maggior ragione anche questa, ovviamente, estremamente illegale).
Il prodotto è basato su kernel linux (che il che lo rende molto appetibile tra gli smanettoni in grado di modificarsi caratteristiche…) installato su una comact flash da 1 Gb.
Vediamo ora le sue caratteristiche:
CPU MIPS 32 4Kc based 266MHz (BIOS adjustable from 200 to 400MHz) embedded processor
Memory 64MB DDR onboard memory chip
Root loader RouterBOOT, 1Mbit Flash chip
Data storage 128MB onboard NAND memory chip
CompactFlash type I/II slot (also supports IBM/Hitachi Microdrive)
Ethernet ports One IDT Korina 10/100 Mbit/s Fast Ethernet port supporting Auto-MDI/X, eight VIA VT6105 10/100 Mbit/s Fast Ethernet ports supporting Auto-MDI/X
MiniPCI slot Six MiniPCI Type IIIA/IIIB slots
Serial ports One DB9 RS232C asynchronous serial port
Per amggiori info, vedere qui.
Saluti, Savy.uhf
Articoli simili
Non ci sono corrispondenze